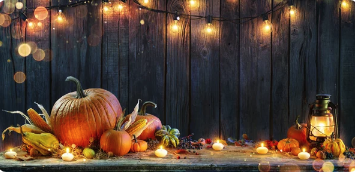 Earlier this month we provided you with lots of fun and festive ways to get into the mood of the holidays – and Thanksgiving in particular. To keep the theme moving through the rest of the month, here are more ways to enjoy your family and friends today and through your Thanksgiving feast!
Play Hide the Pumpkin
No matter what the weather, this game can be played indoors and out. You only need a dozen (or more) of those cute little pumpkins and gourds and hide them like it's Easter! The easy part follows – let the kids keep the pumpkins to color as a decoration for the table on Thanksgiving Day. Or better yet, use them as name place cards for your guests.
Tik-Tok & In-laws
Got company in town or coming your way? This is a perfect time for the kids to make their own documentary about their friends and family. Think: video for TikTok! They will be amazed to hear what their Grandma and Grampa's Thanksgiving memories are, and the interview will be something to treasure for years to come.
Stroll Down Memory Lane
Once the videos are done, find some time to look through the family scrap books with your family. If they are not marked with names or details, now is a wonderful time to chart the past so as not to lose the history of your ancestors. Families to follow will appreciate the time and talent that they will treasure and pass on for years to come.
Create a Gratitude Vase or Bowl
Everyday is a day to be thankful for what we have in life, yet it is during the month of November when the idea is more vivid than others. Throughout the month, select one day a week (maybe Sunday) and have the family (and your friends if you so desire) write down their thoughts on Autumn colored paper and place their words of 'thanks' in a clear vase or bowl. During dessert on Thanksgiving, pass the bowl or vase around the table and read them out loud.
Bring Out The Board Games
When is the last time you played Bingo? How about Monopoly or a good old fashion round of Go Fish or Yahtzee! If you don't have games at home, hit the local thrift shops as they usually overflow with options to get the gang together this holiday season.
Thank a Soldier
There's a program called Operation Gratitude that welcomes letters from all ages thanking our soldiers for their service. From personal cards to hand-drawn colorful pictures of pumpkins and turkeys, any and all messages will be delivered to bring a little joy into the lives who deserve our thanks most.
We Thank You
On behalf of our entire staff at Juniper Springs apartments, we thank YOU for being such kind and considerate neighbors. For that, we are very grateful!